Electro Thermal Links
The Metcraft Electro Thermal Link is designed to protect Generators and other associated equipment from fire or over heating by sending a signal to the control panel when the temperature reaches 72°c. This effect is achieved by the use of a thermal fuse, rated at 10amps 230Vac.
The electro thermal link provides a permanently closed circuit, once the breaking temperature has been reached the unit provides a permanently open circuit and must be replaced to resume normal operation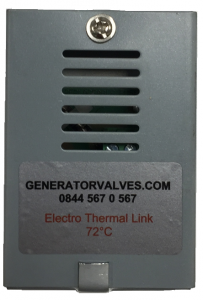 Data Sheet:
Please call us on 03300 577 577 or email us at contact@metcraft.co.uk to discuss your requirements.