Hand Pumps
The Ultraflow Cast Iron Rotary Hand Fuel Pump is an economical and simple solution for the manual dispensing of diesel and oil primarily from a drum, but also from other types of storage tanks. These rotary vane type hand fuel transfer pumps are a popular choice for transferring fuel when cost effectiveness is important, when only small quantities need to be dispensed at a time, or when no mains power is easily available. This manual diesel transfer pump is supplied with a 2" M BSP drum adaptor and three part rigid suction downtube.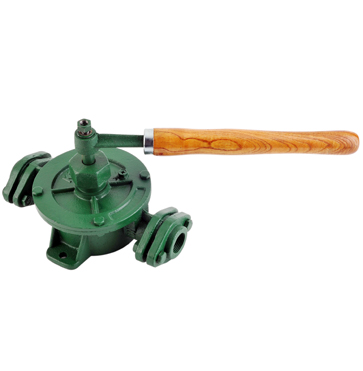 Features of the Cast Iron Rotary Fuel Hand Pump:
Manual oil & diesel hand pump
Rotary vane style design
Cast iron construction
Max flow rate: 310ml per revolution
3 part rigid 1000mm suction pipe
25mm bent dispensing spout
2" BSP drum connection
Max viscosity 410cSt
Data Sheet: Please click on the pdf link below to open up the datasheet
Please call us on 03300 577 577 or email us at contact@metcraft.co.uk to discuss your requirements.