Fuel Polishers & Conditioners
Metcraft offer a range of fuel polishers & conditions.
Metcraft Premium Fuel Polisher
The Metcraft Fuel polisher and conditioner with a magnetic ion alignment chamber a single pump and a filter/water separator is a bespoke unit built to specification.
Easy installation – Fix into position, connect the fuel inlet / outlet flanges and 240V mains supply
10 micron fuel filter complete with drain valve and hose. Filter 'service' warning via DP (differential pressure) switch and water sensor.
Magnetic conditioner as standard with 'Y' strainer to pump
All mounted in compact powder coated cabinet with twin doors and external emergency stop. IP 56 rated
50 litres / minute flow rate using self-priming pump. Flow failure warning via flow switch.
Mimic panel set into door front and emergency stop. Bulk tank & fire inputs for shutdown in case of low fuel or emergency
Diesel fuel polisher 'Smart' control unit giving multi functions, indicators, user friendly 7 day timer and two BMS outputs.
Data Sheet: Please click on the pdf link below to open up the datasheet
Metcraft Fuel Polisher Control Panel
The Control Panel is delivered ready wired and plumbed. The fuel polisher control panel uses the well proven DSA single Pump Controller. This is a microprocessor-controlled, control panel for use with twin or single pumpsets. The control panel is available in all standard voltages from 12 volt DC to 415/3/50. The panel incorporates tank level controls, bund/seal leakage detection, BMS and fire system interface, using an innovative modular construction.
The main features of the control panel include :
A compact, self-contained microprocessor panel with plug-in connections.
Automatic pump changeover for twin pumps with alternate starting sequence.
Auto/off/manual facility for each pump.
Bulk tank level controls with low/low pump protection, giving local LED and sounder indication and a remote alarm signal.
Water in fuel and filter blockage controls with  alarms,  giving local LED and sounder indication and a remote alarm signal.
Switched supply (230/1/50) for Belimo motorised or solenoid valve with facility for low voltage status switch to operate pump contactors.
Building Management Interface (BMS) including fire cut off.
Standard voltage 240/1/50 (24v AC/DC, 12v DC, 415/3/50 or 110/1/50 available).
Mounted in an epoxy-coated steel enclosure 400mm x 500mm x 150mm.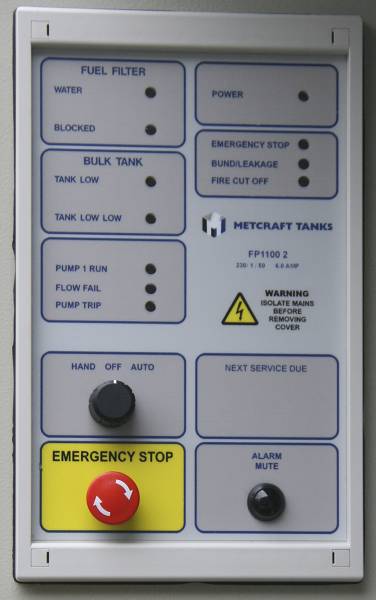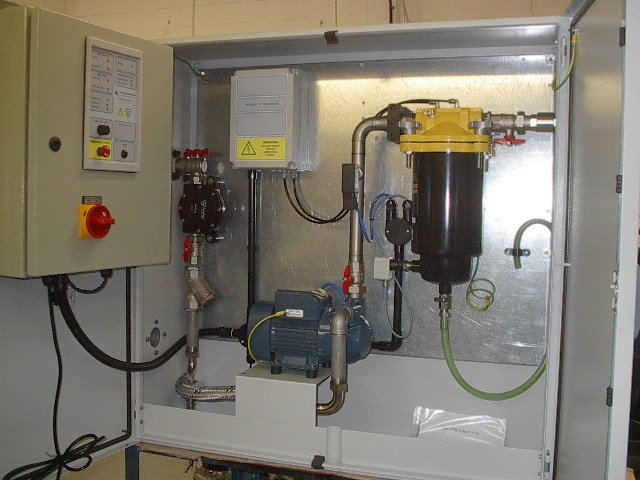 Basic Fuel Conditioner
Circulates & prevents degradation of fuel inside storage tanks.
Passes through a pre-filter fuel conditioner to prevent microbial growth.
Fuel is automatically circulated for a preset number of timed periods to ensure tank contents is recirculated 1½ times every 28 days.
When the pump flow rate drops below a preset limit (indicating a clogged filter)the flow switch closes & a warning light flashes.
Can be linked to our remote warning device (RWD2).
External alarm outputs, rated at 230VAC 10A max.
For use with diesel.
Features a 230V pump unit, inlet strainer, fuel conditioner, flow switch, filter clogged warning light, timer, mains junction box & override key switch.
Mounted on a wall/tank mounting plate.
Weatherproof for outdoor use.
Used for tanks up too 65,000L capacity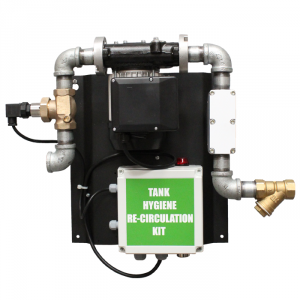 Data Sheet: Please click on the pdf link below to open up the datasheet

Please call us on 01903 714226 or email us at contact@metcraft.co.uk to discuss your requirements.