Pump Sets
Our pump sets are made to order and and can come as a single unit or duplex, self priming or geared pump sets. We can make drip trays and mounts to your specification as well as providing single and duplex strainers fitted to the set. Please see below for information on the pumps provided,
Self Priming Pumps 
Self priming pumps are ideal for diesel fuel pump sets. Please see flow rates and data below.
Pump Performance Data 

`Q = FLOW RATE H = TOTAL DYNAMIC HEAD IN METERS
Dimensions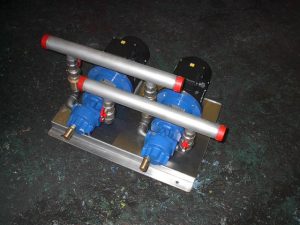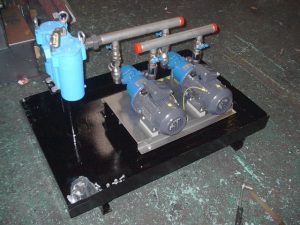 Data Sheet:

Geared Pumps 
Geared pumps are predominately used when there is a large head pressure, for example to pump fuel up a tall riser within a skyscraper to the generators on the roof of the building. Our pumps can pump multiple fluid including diesel fuel. Please see flow rates below.
Data Sheet:

Please call us on 01903 714226 or email us at contact@metcraft.co.uk to discuss your requirements.